HEALTH GOODIES FOR LITTLE SEAFOODIES
When kids eat at least two servings of seafood each week, the benefits are big. Fish and shellfish supply the nutrients, vitamins and omega-3s essential for strong bones, brain development, and a healthy heart and immune system.
Big Yums + Big Brains
Fish makes your brain bigger, literally! Your brain is nearly 60% fat, and omega-3 fatty acids found in seafood are among the most crucial molecules that determine your brain's ability to perform.
New Faves + Better Grades
Kids who eat fish at least once per week may do better in school. Seafood's omega-3s help kids' brains develop, leading to higher IQs and improved reading and spelling skills. Plus, children who consume more seafood have less anxiety and better focus.
Clean Plates + Healthy Eyes
Nearly half of our eyes' light-detecting cell structure is made up of omega-3s.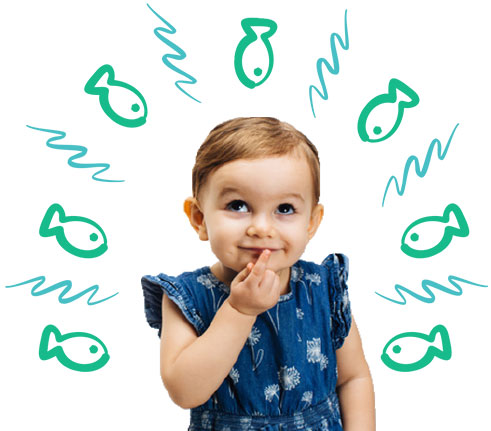 SUSTAINABLE SEAFOOD IS A WIN-WIN:
HEALTHY FOR YOUR KIDS, HEALTHY FOR THE PLANET.
You have two basic choices for sustainable seafood: wild-caught from well-managed fisheries or raised from farms that adhere to responsible practices. Today, it's easier than ever to find either option.
Buy certified.
Several certification programs work with fisheries, farms and companies to ensure sustainability.
Look for logos such as these:

Shop at a reputable store.
100 percent of Hy-Vee's fresh and frozen seafood comes from responsible sources.
Ask questions.
Your store can tell you where it gets its seafood and if it was responsibly raised or caught. Just ask your Hy-Vee seafood department for more information.
Use the web.
Consult sites like SeafoodWatch.org and FishWatch.gov to find great sustainable seafood choices.
Choose American.
The U.S. is the global leader in sustainable seafood.