Researchers, health experts, popular media, and communities across America are joining the movement to commit to one more meal at home per week every September for #FamilyMealsMovement! Most compellingly, families like yours are joining in and seeing the benefits.  In fact, more than 8 in 10 of those seeing the National Family Meals Month™ campaign say that it is important and, better yet, are taking action to making family meals happen!
The data on why family meals matter is positively overwhelming.
Studies show again and again the significant, measurable scientific proof about the positive, lifelong benefits of family meals.  Family meals nourish the spirit, brain and health of all family members.
Regular family meals are linked to higher grades and self-esteem and delayed sexual activity.
Children who grow up sharing family meals are more likely to exhibit prosocial behavior as adults, such as sharing, fairness and respect.
With each additional family meal shared each week, adolescents are less likely to show symptoms of violence, depression and suicide, less likely to use or abuse drugs or run away, and less likely to engage in risky behavior or delinquent acts.
Adults and children who eat at home more regularly are less likely to suffer from obesity.
Increased family meals are associated with greater intake of fruits and vegetables.
We believe that seafood can be an excellent choice for you family meal. Here are a few of the benefits: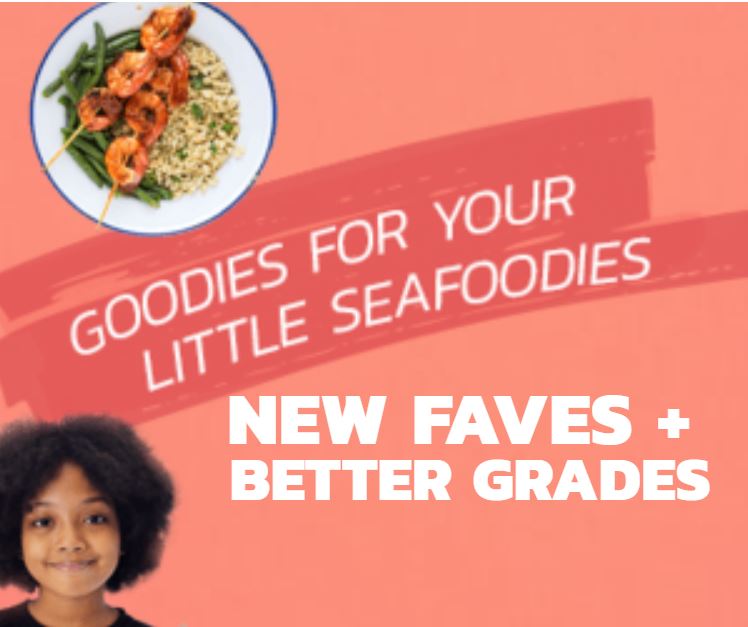 Seafood gets straight As. Research shows that seafood nutrition benefits students of all ages. That's why the Dietary Guidelines for Americans and American Academy of Pediatrics both say kids should eat fish at least twice a week.
A+ FOR NEEDED NUTRIENTS
Seafood is rich in nutrients needed for growth and development, including vitamins A and D, necessary for eye and bone development, and omega-3 fats (EPA and DHA), essential for growth and brain development. Many species contain high levels of vitamin D and calcium, and most shellfish pumps the iron.
A+ FOR KIDS IN THE CLASSROOM
Did you know kids who eat fish at least once per week may do better in school? Research shows an association between fish intake and better grades!
The benefits of seafood go beyond just grades.
Feed your brain: studies show fish eaters have bigger memory and learning centers.
Better your sight: along with supporting healthy eye development, omega-3s support our ability to detect light.
Have D for your bones: just one serving of salmon can provide 100% of the daily recommended value for vitamin D.
A+ FOR VERSATILITY
Contrary to popular opinion, many seafood varieties have mild flavor that suits a variety of your children's favorite dishes. Shrimp and white fish such as cod, tilapia or Alaska pollock are great in tacos, quesadillas, pasta dishes and more.
There are so many types of seafood to choose from. Frozen and canned varieties are easy to prepare and serve.
And that's just some of the reasons kids should eat fish!